About
Australian
Deaf History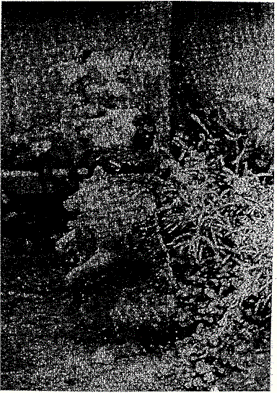 About
Australia's First
Hearing Dog
One of the most prominent members of the Melbourne Deaf community around the turn of the century was John Muir. John Muir and his wife Daisy were both Deaf, but a prominent member of their household in Malvern was hearing. His name was "Ben" and he was an Irish Terrier. As the journalist "Matter" wrote in "The South Australian Monthly News" for April, 1909.
"Ben", their fine Irish terrier showed evidence of careful training and kindness on their part. He would do many things at the bidding of his mistress, in his own clever way he conveyed to her notice when someone was at the door, and when the kettle is boiling, received letters from the postman and brought them to her, he also acted as "waker up" to his master in the morning. An alarm clock is not needed in a household rejoicing in the possession of such an intelligent dog.
Let's talk
Deaf Convict
and Pioneer
Elizabeth (Betty) Steel 1764 – 1795
As far as we know, Betty Steel was the first Deaf person to come to Australia from England. She was a convict. Betty was born in London in 1764 and lived in the slums near Southfield Market in central London. Her mother died when she was 9 yrs. old and her father when she was 22 yrs. old. In January 1787, a year after her father died, Betty was arrested for stealing a watch from a Deaf man called George Childs. She was sent to Clerkernwell Prison and then to Newgate Prison. In May 1787 she appeared in court, at the Old Bailey. The court ruled that because she was deaf she could not plead her case. In October 1787 she was tried for stealing the watch and sentenced to transportation for 7 years.
Betty Steel continued
She spent a further 17 months in Newgate before she was taken to the transport ship the "Lady Juliana" on the river Thames. Four months later, in July 1789, the "Lady Juliana" finally left England for Australia, taking 11 months to reach Sydney Cove in June 1790. A month later Betty was taken to Norfolk Island where she served out the rest of her sentences.
On Norfolk Island she lived with convict called James Mackey, and together they farmed land in a small valley not far from the main settlement. They produced maize to feed people in the main colony at Sydney Cove. In 1794, Betty and James returned to Sydney after James joined the N.S.W Corps. Less than a year later, on 7th June 1795, Betty died at the age of 31. She was buried the next day in the Sydney Burial Ground where the Sydney Town Hall now stands. One hundred and ninety six years later, in 1991, workmen digging beneath the Town Hall unearthed an old headstone. On the headstone was written
"In Memory of Eliz Steel died June 7th 1795, Aged ….."
Let's talk
A Deaf Convict
James Smith arrived in 1827 as a convict. He was only 17 or 18 years old. He was transported to Australia for picking a man's pocket and stealing a handkerchief. He was sentenced for 14 years. He had an interpreter at his trial at the Old Bailey in London.
James Smith lived in Hyde Park Barracks. He finished his sentence in 1841. The description of him on his Certificate of Freedom, shows that he was a short man (5 feet 4.5 inches) with grey eyes and brown hair. He had many scars, tattoos and two missing front teeth. His Certificate of Freedom records that he was "Deaf and Dumb". We don't know what happened to James Smith after he was freed – but we would love to find out!
Frederick John Rose (1831 – 1920)
Founding Father of the Australian Deaf Community
Frederick John Rose was born on September 21st, 1831 in Oxford, England. After a bout of Scarlet Fever at 4 ½ years od, FJ became deaf. He was educated at the Asylum for Deaf and Dumb at Old Kent Road in London. At the age of 21, FJ Rose left England and sailed to Australia on the ship, "Gloriana", with his younger brother to seek his fortune. He lived in South Melbourne and also worked for a number of years in Bendigo goldfields as a carpenter. After having read a letter from Sarah Lewis, a mother of a deaf child in "The Argus" FJ Rose met up with Sarah and then set about setting up a school for the deaf in Melbourne.
In 1860 after a brief visit to England to marry, he started teaching his first student Lacy Ann Lewis who was he deaf daughter of Sarah Lewis. The School for Deaf and Dumb (later named Victorian Deaf and Dumb Institution) was housed at a temporary location in Peel St, Windsor which was also FJ Rose's home.
Frederick John Rose continuing
In 1866 after a few changes in the institution's location due to the rapidly expanding number of students attending, the school moved to is new permanent home at 597 St Kilda Road where the Bluestone Building is still standing today.
Between the years of 1897 to 1913 FJ Rose worked as a collector of donations and any moneys he collected was given to the school. FJ Rose's wife died in 1913 and in 1914 wag given a pension. Frederick John Rose died on the 1st December 1920 aged 89 years. He is buried in St Kilda Cemetery.
Thomas Pattison (1805 – 1899)
Founder of the First School for the Deaf in Australia
Thomas Pattison was born in Scotland on 5th January 1805. Having lost his hearing at a very young age he was sent to the Edinburg Institution for the Deaf and Dumb. At that time, Mr Kinninburgh was the headmaster. Thomas spent 7 years there as a pupil. He would have been taught using a combination of the manual method and English through reading and writing. After finishing school he was apprenticed to Mr Croall who was an Edinburgh coach builder. When not at work he was involved in mission work with the Deaf in Edinburgh, Dumfried and Dundee. In 1858 he emigrated to Sydney to see his brother who was a sea caption. While in Sydney he met a M G.A. Lentz who had three deaf daughters. They decided to establish a private school for Deaf children, so in 1860 the school opened in Liverpool Street in Sydney. At the end of the first 12 months it became clear that they needed greater financial support. The Rev. George King became involved and a provisional committee was as setup. On October 1st 1861 the private school became a public charity with Thomas appointed as headmaster. He taught there for 5 years until 1866 when it appears he was replaced by committee.
After losing his position at the school he settled in Melbourne and returned to his old job as coach painter where he worked for a further 20 years. He joined the Adult Deaf and Dumb mission but was not actively involved. "He was esteemed by all who knew him for his unassuming and peaceful disposition". He lived with David Piper, an ex-student of the Victorian school and its first pupil teacher, and maintained a close friendship with Frederick J. Rose. He lies buried in Melbourne General Cemetery.
Lucy Moss (nee Lewis) and Solomon Moss
First pupil – Frederick J. Rose
In February 1859, Lucy Lewis's step mother, Mrs Sarah Lewis, wrote to the Melbourne paper "The Argus". She signed her letter "Widow" and in it made a plea for someone to set up schooling for the deaf children in Melbourne. She wrote, in desperation, "If nothing can be done speedily in this colony, I shall be put to the peril and danger of a sea voyage to get her educated in Old England, but should such as institution arise here, I would enrol myself a life subscriber". Her letter appeared on 16th February, and 6 days later, on 22nd February, Frederick J Rose wrote and reply to the letter from Sandhurst, the old name for Bendigo, offering to set up a school in Melbourne. And so the very first steps in the establishment of the Victorian School for Deaf Children has been taken. In 1860, when the school opened, Lucy Lewis was the first pupil. Pupil number five was Solomon Moss, Lucy's husband.
Lucy and Solomon Moss both worked hard for the Deaf community in Melbourne with Solomon Moss working as a city collector for the Victorian Deaf Society for 30 years. Lucy was the first Honorary Secretary of the Women's Friendly Society (later the Women's Guild), a member of the Ladies Sub-committee, a leader at evening meetings and a teacher of classes on Sunday mornings. When new buildings were opened at the Victorian School for Deaf Children on 29th May, 1928, it was Lucy Moss, first pupil at the school, who presented the key of the door to Mr Webber, M.L.A.. When Solomon Moss died he left a large amount of money to the Deaf Society which was used to build the hall.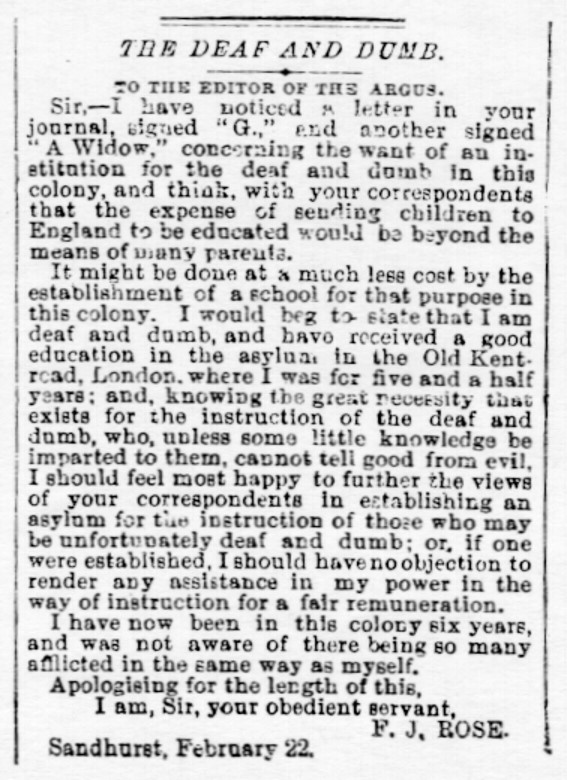 Catholic Deaf Education
The earliest schools for the Deaf in Australia has been established along non-denominational lines, in practice their boards were drawn from the Protestant or non-conformist churches. Catherine Sullivan who attended the Deaf and Dumb Institution in Sydney, came from a devout Catholic faith and decided to withdraw her from the school. Her father appealed to the Bishop, Mathew Quinn. He was aware that the Dominican nuns in Ireland ran a school for the Deaf and Dumb, so he prevailed on the Australian order to take in Catherine. At the same time he asked the Dominican order in Ireland to send a trained teacher so that a similar school could be set up in Australia.
A Deaf nun, Sister Mary Gabriel Hogan from Cabra was selected, and she disembarked in Newcastle Australia in August 1875 with five other Dominican sisters. In December 8th 1875, Catherine Sullivan and Elizabeth Rewalds became the first pupils at the Rosary convent. As the number of boys increased in the school, it was seem important to provide them with a separate school so in June 1923 Sr. Gabriel's was established under the guidance of the Christian Brothers, along similar lines to the Girl's School, with help from two brothers from Cabra Ireland.
By the 1940's both schools had adopted the oral method and no longer used a combined method. In December 1947 the first Catholic school for the Deaf was opened at Portsea, Victoria, with six sisters transferred from the New South Wales community. By the end in the sixes, the oral method has been supplemented in all the schools with cued speech.